The living room was once the central space of the home where people used to spend a lot of time once they're at home, performing either chitchat with family members or watching television together. However, the trend has seen a change over the recent years, with cooking channels airing various shows on the television that enable to make different types of delicious recipes; people are now accommodating dining space and a small wall-mounted LED television inside the kitchen area. The cooking shows certainly help to cook different kinds of food. Thereafter, the entire family relish the meals together.

As per interior design consultant, Wessam Issa, "Kitchen is the heart of the home and so it is imperative to consider the right budget for a kitchen overhaul. Also, keep in mind, a kitchen renovation is something that you won't be doing often, so plan well, research properly and invest your hard-earned money wisely to get a highly functional and spacious kitchen, which also looks great".
Before beginning your kitchen renovation project, you must ask yourself the below-listed questions, suggests Wessam.
1. How many chefs or people will be working in the kitchen? Or it is just you or your loved one that will be working in your kitchen.
2. What storage capacity do you require?
3. How regularly you will be using your kitchen.
What type of kitchen revamp you'll be able to do with an approximate budget of $6000?
You'll be able to render an aesthetic makeover to your existing kitchen with an approximate $6000 budget. It will typically include:
1. You'll be able to give a new look to your
and cabinets by giving it a new coating or paint.
2. Freshen up your lighting by having LED lights below your upper cabinets or place feature lights above the island bench.
What kind of kitchen overhaul you're able to perform with an approximate budget of $11,000?
With this budget, you can customise your kitchen space using a flat-pack kitchen, suggests Wessam. You can either pick from custom-made sizes and designs or choose from standardised alternatives. You can consider for a new surface or paint with a new colour for some parts that will enable to obtain a fresh look, which will facilitate you to have some budget for more sophisticated materials like a stone benchtop.
What type of kitchen renovation you're able to carry out with an estimated budget of $21,000?
You can construct a stunning custom made kitchen using classy stone benchtops with a budget of about $21,000. Wessam recommends that you should be taking extra precaution with your budget and invest your money prudently so that you get a highly useful and roomy kitchen area, which also looks graceful.
Final Words
While renovating your existing kitchen, you should take into account what types of functionality you really require and how you're going to use your kitchen space. If you are looking for small kitchen renovation in Sydney, then don't hesitate to call us on (02) 9757 4400. We will help you in your kitchen renovation project
Summary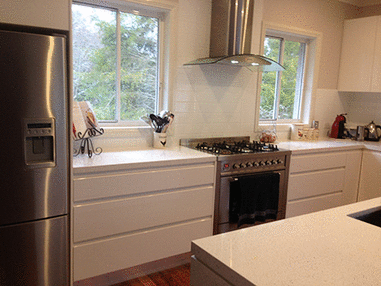 Article Name
Kitchen Renovation Tips on a Budget by Wessam Issa
Author
Description
The kitchen is the heart of a house. Know some tips on how to plan a Kitchen Renovation within the budget.
Publisher Name:
Paradise Kitchens Blog
Publisher Logo: