Kitchen Splashbacks Sydney
Look Print is pushing the boundaries with transforming ordinary spaces into the extraordinary. We are providing our customers with the tools to customise any environment. This DYI aluminium splash back is an amazing way to customise your kitchen with imagery that suits your style. The printed image is transferred through a fusion method which is long lasting and extremely durable. The aluminium panel is designed for easy installation saving you time and money.
The graphic process will be managed completely through our experienced design team, relieving all stress and responsibility from the customer. LOOK Print will ensure all images are the correct resolution when printed to ensure the highest image quality. This is an amazing innovative solution which has transformed the possibilities of home renovations.
How to install:
The best mothed of installation is to use liquid nails.
Apply liquid nails to the back of aluminium panel and apply to wall.
After aluminium panel has bonded to the surface, apply clear sealer around edges and smooth.
Product Information:
The aluminium panel is 1mm in thickness.
The aluminium panel is heat resistance…this information is in the specification sheet…melting point of the product is 660 degrees.
The printed graphic is through a fusion method (powder coated)….11 + Years warranty.
Product is stain resistant and scratch resistant.
The best way to clean the aluminium panel is with glass cleaner or multipurpose cleaner.
Care Instruction for the product:
Don't step on the product.
Don't bend the product.
Don't drop the product.
Available Sizes:
1219 x 1219 mm
1240 x 2464 mm
1400 x 3000mm
---
A neat and functional kitchen is what you get when you install awesome products. Easily augment the look and feel of your kitchen through adding a beautiful kitchen splashback. Besides, splashback will give a fresh sleek finish to your kitchen.
A variety of choices are available in splashbacks in today's highly competitive market. A solid 4mm fire resistant compact HPL material (which is laminated in various layers with a decorative layer on both sides) is used in manufacturing Duropal Pyroex Kitchen splashbacks in Sydney. Installation of Duropal splashbacks is effortless and it can be straight away installed onto brickwork, plasterboard, and ceramic tiles.
Snow White
W400HG
Champagne Metallic
U501HG
Sand Grey
U1184HG
Ruby Red
U1691HG
Anthracite Metallic
U506HG
Sanded Aluminium
F8110HG
It's Easy to Maintain | Simple Lifestyle | Get more time for important tasks
~ Flexible
~ Fire Resistant
~ Moisture Resistant
~ Hygienic
~ No Special Tools or Equipment Required
---
Lustrolite® is a sophisticated multi-layer high gloss acrylic sheet that looks very similar to glass. Lustrolite can be easily implemented to kitchens, bedrooms, walls, showers, washrooms, basically any interior vertical surface. What makes Lustrolite special is that it is resistant to chemicals and stains, resistant to scratches, and wear resistant to heat and thermal shock.
Lustrolite is definitely stronger than equivalent glass panels. The colour is easily merged to the clear coating and is extremely resistant to harsh chemicals like bleaches and solvents. To furnish the interiors of any home, Lustrolite is the ultimate luxury that shines.
To any existing walls and finishes, it can be easily installed. With the aid of colour match silicone or neutral cure transparent, joints can be sealed. Easy Do-It-Yourself installation instructions are right at your finger tips, which will give you immediate result.
All you need is warm water and a soft micro fibre cloth, and you can easily clean it.
Don't need to use any strong chemicals.
Don't require fixing and fewer joints.
It won't encourage forming up of moulds, calcium, bacteria or soap as it is made up of non-stick surface.
It's 100% waterproof material and supported by a 10 year warranty.
Notes:Please bear in mind that Lustrolite is specifically made for indoor use and for vertical surfaces only. You need to be careful while using it and must AVOID using it with a direct heat source which is above 70°C (158°F). Also, you must AVOID using it with strong alkalise as it's unsuitable.
Colour Palette -Lustrolite:
BRING LIFE INTO YOUR SWEET HOME WITH AN AWARD WINNING LUSTROLITE PANEL:
---
Do you want to renovate your existing kitchen or want to furnish a brand new kitchen for your new home?
There are many options from which you can choose from such as striking Lustrolite®, timeless stone, panelled Metaline or glass. No matter what you opt, it will definitely add beauty and elegance to your new kitchen or breathe life into an existing one.
If you have the measurements ready, you can call us right away to fix an appointment with one of our qualified and experienced sales consultants to obtain a quote. Alternatively, you can get a quote online by just following the prompts in the kitchen quote section.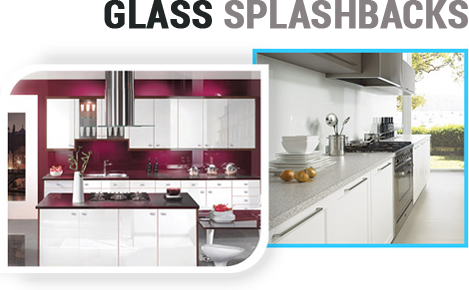 Brighten up your home with beautiful glass splashbacks which is a combination of grace and beauty. By installing an awesome glass splashback, you can breathe life into your existing kitchen or bathroom, which will go on to make a style statement. Alternatively, by slightly changing the colour palate, you can give a fresh look to any room. The choices you get with glass splashbacks are truly amazing. They are hygienic and don't contain any grout or porous materials and they are easy to clean and maintain.
What's more, glass provides a wide range of colour choices which can go with any paint colour thereby making your choice limitless. Give your room a modern and spacious look by installing glass splashback that is made up of almost clear substance (with a very slight greenish tint).
Standard Clear and Starphire Glass are the major two types of glass from which our range of glass splashbacks are manufactured. Paint can be matched to almost 98% to the paint colour. However, bear in mind that lighting may influence the match in certain rooms. High quality toughened safety tempered glass of 6mm is used to make glass splashbacks, which adheres to strict Australian standards. It is really magnificent for kitchen, laundry, bathroom, featured wall shelving as well as for home office.
Please Note: The final colour of your splashback might get affected by the light conditions and reflections. Behind a cooktop, tempered glass splashback looks fine.
---
Laminex® Metaline® splashbacks and panels continue to inspire! A wise substitute to glass is this sophisticated aluminium based system, which is available in a variety of modern colours in an impressive high gloss finish. Metaline splashbacks and panels provide natural flexibility featuring a lustrous, continuous look with fewer joints. Thus, they are adaptable to fit any location and will augment the overall look and feel of any room. For using behind both gas and electric cooktops, a unique flame resistant system has been independently certified by SAI Global as suitable and safe.
Metaline is compliant when correctly installed by an authorised installer. It can be effortlessly integrated to hold power points, taps and fixtures. Metaline is not only easy to install but also easy to clean. These panels are perfect for a variety of applications that includes bathrooms, shower recesses, shop fit-outs, columns, lifts and wall linings. They are exceptionally durable and resistant to stain, mould, and heat which is why they are backed by 7 years of limited warranty.
SMARTER SUBSTITUTE TO REAL GLASS – THESE CONTEMPORARY DECORS ARE EXTREMELY DURABLE
Laminex offers 7 years of limited warranty on Metaline Splashbacks & Panels. For further details, please refer website
www.laminex.com.au.
---
Stone splashbacks are made to last a lifetime! They are robust and at the same time provide a lavish look, which is generally expected of stone. Without doubt, stone is an excellent substitute when compared to other products like tiles or glass. Stone can be used on a variety of applications like walls, splashbacks, vanities, benchtops etc. Stone is an intelligent choice for your kitchen interiors.
Uncover the great range of stone we have by visiting our showroom in Sydney. Bring in your measurements when you visit our showroom which will allow our experienced sales team member to offer you a no obligation free quote!