Do you love to take a shower in your bathroom? A bathroom needs to be completely organized. Items that you need has to be within arm's reach for convenience.
Many of us are looking at options to store items comfortably within the bathroom and is a reason is increasingly looking at adopting the Zen style. The Zen style gives preference to storage. It is preferable to have custom made and built in storage incorporated in units or cupboards to give a neat look.

Let us analyze some options available before choosing a bathroom vanity cabinet design that can be your bathroom renovation's centerpiece.
Storage Requirements – The number of users of the bathroom vanity need to be considered along with the kind of storage requirements. The bathroom needs to only store those items that are regularly needed. Also, decide which items should be concealed and which kept on display. The area beneath the sink can also be used as a storage unit.

Off the Shelf or Custom – You can choose from a variety of sizes, shapes, and designs of vanities and find the one that is right for your space. The color, material finish, and basin can also be chosen from, if you have opted for a custom made design. This will help you get a vanity that has the exact size, finish and design that you are looking for. A custom made vanity will help the maximum utilization of space.

Materials and Finishes – One can choose from an array of specialized finishes for the bathroom vanity cabinet. The options are:

Laminates – High-pressure laminate and low-pressure melamine. The high-pressure ones are of durable material, resistant to knocks and spills and come with consistent colour. The low-pressure ones are good for bathroom Vanity doors and drawers and should be avoided on bench tops.

Vinyl – Vinyl is available in a variety of finishes and textures, making the vanity extremely moisture resistant.

Timber and Timer Veneer – Timber is subject to denting and water damage. Solid timber is more durable but prone to warping over time.

Paint – An ideal choice would be Tow pack polyurethane that has consistent color and is resistant to scratching.

Vanity Top – There are three main categories to choose from namely Timber, Stone and Laminate. Laminate is cheap and hard wearing while the stone is expensive and quite hard wearing and stain resistant. Timber gives a natural look to the vanity top but prone to contraction, expansion and warping over time.

Basin – There are three types of bathrooms commonly used – self-rimming, semi-recessed and integrated. The self-rimming style is economical and is practical for use. The semi-recessed ones are used when space is a premium, and the cabinet can be narrowed down. The integrated ones give a seamless look and are suitable for stone tops.

Design – The end design of the vanity depends on all the factors mentioned above with the user's requirements being given utmost importance. Factors such as who will be using the bathroom, what needs to be stores, whether extra bench space is needed or not will together help you decide which design would best suit your bathroom.
Summary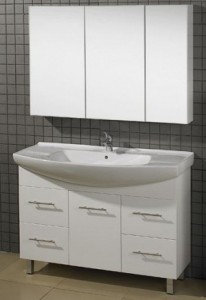 Article Name
Options When Choosing a Bathroom Vanity Cabinet Design
Author
Description
Analyze some options of a bathroom vanity cabinet design where you can store the items that you need regularly has to be within your arm's reach and convenient.